There are 3 eurolotteries who is organised in different countries. The biggest is the Euromillions who i played in 9 countries. And also Eurojackpot and vikinglotto.
National lotteries by country
update 19 september 2023
Austria: Austrian Lottery: Lotto 6 out of 45, EuroMillions and Numbers Lottery
Belgium: Loterie Nationale or Nationale Loterij (Lotto 6/45, Joker+, Keno, Pick 3), Vikinglotto and EuroMillion
Bulgaria: The National Lottery is organized by the Bulgarian Sports Accumulator (Bulgarian: Български спортен тотализатор). The most popular game is TOTO 2 (6/49, 6/42, 5/35, 5/50+1/12). Private lotteries include the Bulgarian Lottery (Bulgarian: Лотария България) and the National Lottery (Bulgarian: Национална лотария)
Jersey Guernsey Channel Islands: Channel Islands Lottery
Croatia: Croatia: Loto 7/35, Loto 6/45, Joker, Bingo (15/90, Plus, 24/75), Keno
Czech Republic: Sazka (Sportka (6/49), Euromilióny, Lucky 10), Fortuna (3/21, 6/36, 9/49, Keno)
Denmark: Lotto (7/36), Joker, Klasselotteriet, Landbrugslottteriet
Estonia: Eesti Loto (Keno, Bingo Lotto, Vikinglotto, Euro Jackpot)
France: La Française des Jeux: Loto (5/49+1/10), Keno, Joker+ and Euromillions
Germany: Lottery 6 out of 49, Spiel 77, Super 6, Glücksspirale, Keno, Plus 5
Greece: Lotto 6/49, Joker 5/45 + 1/20, Proto, Cinema, Extra 5, Super 3
Hungary: Lotto (5/90, 6/45 and 7/35), Joker, Kenó, Luxor, Puttó and EuroJackpot
Iceland: Lotto, Joker
Ireland: National Lottery (Irish: An Chrannchur Náisiúnta), Daily Millions and EuroMillions
Italy: Lotto, SuperEnalotto, Win for Life, 10e Lotto
Latvia: Latloto 5/35, SuperBingo, Keno, Loto 5, Joker, Joker 7
Lithuania: Teleloto, LOTO 1634, Keno Loto, Jėga.
Liechtenstein: Liechtenstein International Lottery Foundation
Luxembourg: EuroMillions
Malta: Super 5, Lotto, Superstar
Montenegro: Lutrija Crne Gore
Netherlands: National postal codes Loterij, Staatsloterij, Lotto, Luckyday, Eurojackpot, Jantje beton, Vriendenloterij.
North Macedonia: Lotarija na Makedonija (Loto 7, Joker)
Norway: Lotto (7/34), Joker, Extra, Keno, Tip, Scratchcard
Poland: Lotto+Lotto Plus (6/49), Mini Lotto (5/42), Kaskada (12/24), Multi Multi, Ekstra Pensja
Portugal: Lotaria Classica, EuroMillions
Romania: Loteria Română (6/49, 5/40, Joker)
Belarus: Superloto, Sport Pari (Sportloto 5/36, Sportloto 6/49, Keno, Blitz), Toloto, Vase Loto, "Lucky 5"
Russia: Stoloto (Russian: Cтолото), State Lottery
Serbia: Loto, Loto+, Joker, Bingo, Bingo+
Slovakia: Tipos (Loto, Loto 5 z 35, Joker, Euromilióny, Keno 10)
Slovenia: Loterija Slovenije[12] (digital games: Loto and Loto Plus (7/39); 3×3 Plus 6, Joker)
Spain: Loterías y Apuestas del Estado and ONCE
Sweden: Svenska Spel: Lotto 1 and 2 (7/35), Joker, Keno
Switzerland: Swisslos: Swiss Lotto, EuroMillions
Turkey: National Lottery Authority under the name of Milli Piyango, including Çılgın Sayısal Loto (6/90), Süper Loto (6/60), Şans Topu.
United Kingdom: National lottery, the main game is Lotto, then Thunderball and Set for Life. The Health Lottery is also only available in the UK.
What is the biggest lottery from Europe?
Euromillions if you check the biggest jackpot. The highest jackpot is 250 million. For example the Eurojackpot is about 120 million.
Which lottery has the most players?
Eurojackpot because the tickets are sold in the most countries.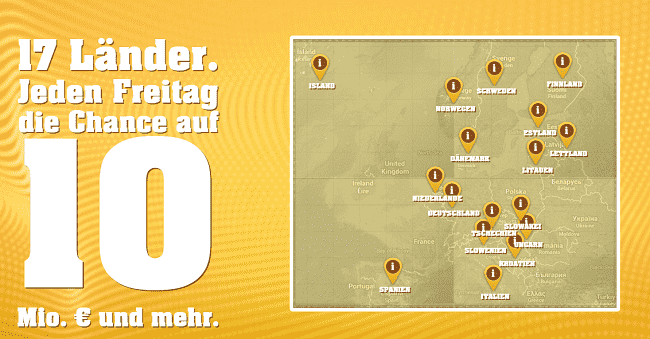 About Europe
Europe is one of seven continents with a rich history and diverse cultures. Here is a comprehensive overview:
Europe is the second smallest continent by land area, but one of the most densely populated. It borders the Atlantic Ocean to the west, the Arctic Ocean to the north and Asia to the east. Important geographical features are the Alps, the Carpathians and the Scandinavian mountains.
Europe is the cradle of many important historical and cultural movements. The Roman Empire, the Renaissance, the Enlightenment and two world wars all had a profound influence on the formation of modern Europe.
The European Union (EU) is one of Europe's most important political and economic organizations, consisting of 27 countries. There are also other intergovernmental and supranational organizations such as the Council of Europe and the Organization for Security and Cooperation in Europe (OSCE).
Economy and gambling
Europe is one of the largest economies in the world and is home to several industrialized countries such as Germany, the United Kingdom and France. The euro is the common currency of the 19 EU countries.
In many European countries, lotteries are an important part of the culture. EuroMillions and Eurojackpot are multinational lotteries with huge prizes. Casinos are also popular, with well-known locations such as Monte Carlo in Monaco and several major casinos in cities such as London and Paris.