GiantLottos is an online platform specializing in offering international lottery tickets to individuals worldwide. The company allows people to participate in various global lotteries without geographic restrictions.
The company is a part of Mikar Online Limited, which is registered in Cyprus. It has been in operation since 2005, making it one of the more established players in this niche. The platform serves customers from multiple countries, although it has certain jurisdictional restrictions in place.

---
Our opinion after researching Giantlottos
GiantLottos has achieved positive results with its recently published offers via loterij.online. The platform has remained active for several years and is one of the main players in the trust and transformation that has made this possible. Users received positive feedback, which satisfied them and reassured them that they were on duty. Playing the whole group is an attractive offer and the fee can be used for the same game without requiring all Winkans games, but there is also a benefit to the non-profit status.
The most important structure is that the website is not available in all regions, which may create barriers for non-English speaking users who want to use the service. This is helpful for international publishing. Thank you, GiantLottos, GiantLottos offers a relatively curated selection of lottery tickets and a variety of simultaneous games. For some players this may take a year while you are looking for more international lotteries to choose from.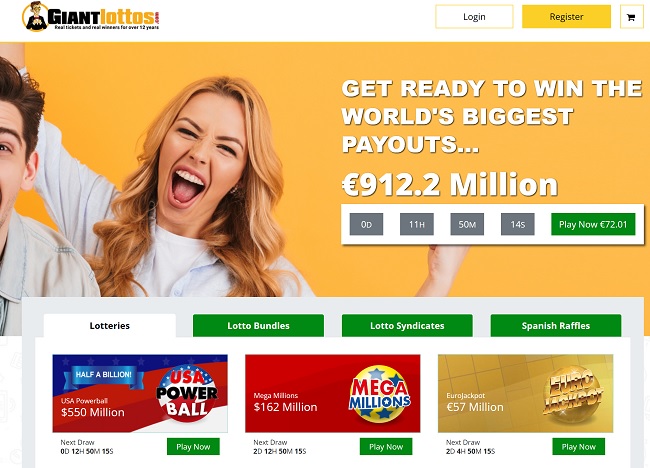 ---
Available Lotteries at Giantlottos
GiantLottos offers a broad array of international lottery games, including:
U.S. Lotteries: Mega Millions, Powerball
European Lotteries: EuroMillions, EuroJackpot
Others: UK National Lottery, SuperEnaLotto (Italy), Oz Lotto (Australia), and more.
Features & Services
Syndicates: GiantLottos enables users to pool their resources by entering syndicates, thereby increasing their chances of winning.
Bulk Buy and Multi-Draws: This feature allows users to buy tickets in large quantities for multiple consecutive draws.
Account Management: Personalized account managers are available for premium members.
Gift Vouchers: They offer gift vouchers that can be redeemed for lottery tickets.
Revenue Model
The platform earns revenue by charging a service fee over and above the actual price of the lottery tickets. They do not take a commission on winnings, which is a strong selling point for many users.
Security and Compliance
Data Protection: Utilizes SSL encryption to secure personal and financial data.
Regulation: GiantLottos operates under international law and adheres to standard regulations that govern online lottery ticket sales.
Payment Security: Supports a variety of secure payment options like credit/debit cards, e-wallets, and bank transfers.
ID Verification: A stringent identity verification process is in place to prevent fraudulent activities.
Customer Support
Channels: Customer support is available via email, live chat, and phone.
Languages: Multilingual support to cater to a global audience.
FAQs: An extensive FAQ section is available on the website to assist with common queries.
User Experience
Website Usability: The website is designed for easy navigation and features an intuitive interface.
Mobile Responsiveness: While there is no dedicated mobile app, the website is mobile-friendly, enabling ticket purchases on the go.