Swisslos is a Swiss organisation that manages various lotteries and games of chance. Swisslos includes the following major lotteries and games: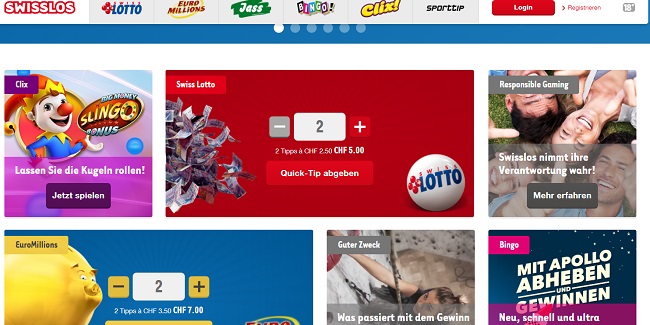 Swiss Lotto
The Swiss Lotto is the most famous national lottery in Switzerland, run by Swisslos. Players select a series of numbers and try to match winning combinations to win prizes, including the jackpot.
EuroMillions Swisslos
Switzerland participates just like Austria in EuroMillions, a partnership between several countries in Europe. Players choose numbers and try to match the right combinations to win prizes, including huge jackpots.
Sports Tip
Sports Tip is a Swiss sports betting game managed by Swisslos. Players can place bets on sporting events and try to win prizes by correctly predicting the outcome.
Loslotto
This is another lottery offered by Swisslos. It offers players the chance to win prizes by picking the right numbers.
Zahlenlotto
Zahlenlotto is one of the traditional Swiss lotteries owned by Swisslos. It is similar to the Swiss Lotto and allows players to choose numbers and win prizes.