Vikinglotto is the largest lottery of Latvia. Also Europeans love to participate in lotteries, and the Latvia Vikinglotto is a good example of this. Every Wednesday hundreds of people are incredibly excited because of the Vikinglotto draw. They all hope to win a big prize with their ticket numbers. To win the Jackpot, you need to have a ticket with six matching numbers and a bonus Viking numbers. What more can you expect from this popular lottery? Also the Eurojackpot is organised in Latvia.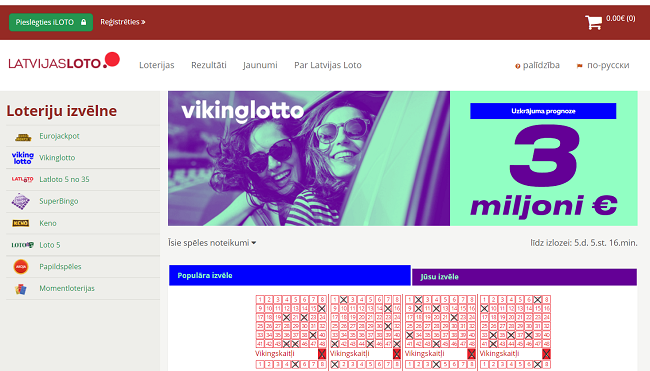 Choose your favorite number in the Vikinglotto
The rules of the Vikinglotto are quite simple. You need to purchase a ticket and choose six numbers out of a 1-48 range and an extra Viking number out of 8. These numbers need to match with those that appear during the draw. You can choose between two kinds of tickets, namely a one-time entry one or a systematic form. The advantage of the latter is that it makes all possible combinations with your selected numbers. It's definitely worth it to buy such a ticket, because it increases your winning chances.
Participate in multiple draws
There are several possibilities to participate in the Vikinglotto. Some people buy a so-called multi-draw package, that makes it possible to participate in several consecutive draws. You can choose between 5, 10, 25 or 25 Vikinglotto draws. The multi-draw package is usually 25 percent cheaper than when you participate just 1 or 2 times. A subscription is a good option as well, especially when you like to participate in every Vikinglotto draw. You can cancel this subscription whenever you want. The fact that you participate every week increases your winning chances.
Draws 2023
The great prizes of the Vikinglotto
Most people participate in the lottery because they want to win a big prize, and this is exactly what Vikinglotto offers. Did you know that the average Jackpot of this lottery is an astonishing 3 million euros? The other prizes are great as well. They're divided among seven prize divisions in total. You win these secondary prizes when you have a ticket with at least three matching numbers. The prize money will increase when the Viking number matches as well. Perhaps you're the winner of a small prize, which is good news as well. In that case Vikinglotto immediately adds the money in your account.
How to claim your prize
The Vikinglotto draw is an exciting moment. Perhaps Lady Fortune is at your side this time! The lottery sends you an e-mail or text message if you become a lucky winner. Big prize winners always need to contact the lottery. You usually have a few months to claim your prize. So don't wait too long for your Jackpot or secondary prize money! Don't worry when the lottery is organized in another country. Just go there as soon as possible, because TheLotter will always pay for your travel expenses.