In the biggest country the United States there are state lotteries in almost every state, and there are two big lotteries: Mega Millions and Powerball. North America is one of the most developed regions in the world. The United States has the largest economy, followed by Canada and Mexico. Sectors such as technology, finance, and health care are particularly strong in this part of the world.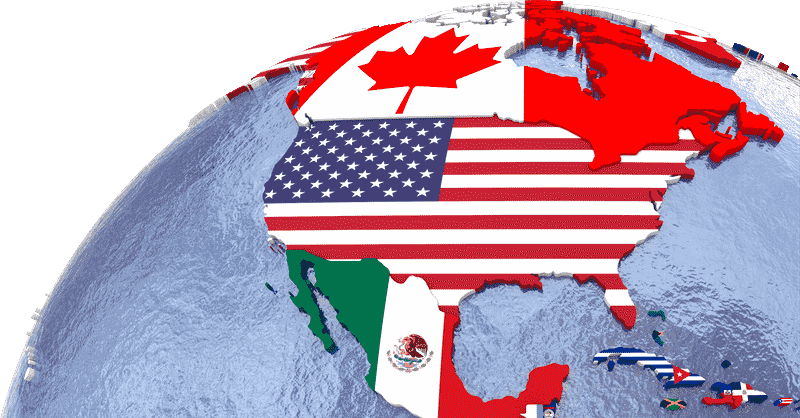 Most player North American lotteries
You could play it online all over the world.
Barbados: Barbados Lottery
Belize: Boledo, Mega Bingo, Fantasy 5
Canada: Lotto 6/49, Lotto Max, Daily Grand, Lottario, Ontario 49, Poker, Lightning Lotto, Mega Dice, Pick 2, Pick 3, Pick 4, Daily Keno, Wheel of Fortune, Instant Scratch Lottos, Loto-Québec
Costa Rica: Lotería Nacional, Chances Lotería Popular, Lotería Tiempos and Lotería Instantanea
Dominican Republic: Lotería Electrónica Internacional Moroccana S.A.
El Salvador: Lotería Nacional de Beneficencia, Lotín
Honduras: Loterías Electronicas de Honduras S.A.
Jamaica: Super Lotto
Mexico: Lotería Nacional para la Asistencia Pública and Pronósticos para la Asistencia Pública
Panama: Lotería Nacional de Beneficencia
Check also South America
About North America
North America is a continent composed primarily of three major countries: the United States, Canada and Mexico. It is geographically diverse, ranging from the icy regions of the Canadian Arctic to the tropical regions of Mexico and the Caribbean.
Culturally, North America is a melting pot. While the United States and Canada were shaped primarily by European immigration, Mexico has a rich indigenous history mixed with Spanish influences. The United States is known for its cultural diversity, with influences from almost every part of the world. The United States is a federal republic with a presidential system, Canada is a constitutional monarchy with a parliamentary system, and Mexico is a federal republic with a mixture of presidential and parliamentary systems.
The continent is also home to many smaller countries and territories, especially in the Caribbean, which have their own unique cultures, economies and political systems.