Have you ever heard of the Ireland Lotto? If that isn't the case, you should definitely take a look at it. This popular European lottery celebrates its 35th birthday this year. It was established in 1988 after the Irish government created the so-called 'National Lottery Act'. The government decided to do so to raise more money for important parts of Irish culture, such as sports, health, welfare and the arts. In exchange for their participation in the lottery, players of the Ireland Lotto can win a huge amount of money.
When are draws at Irish lottery?
Irish Lotto draws take place twice a week, on Wednesday and Saturday nights. During the draw, the six winning numbers and the bonus number are drawn at random. To win the jackpot, players must have correctly picked all six winning numbers. However, there are also prizes for players who match part of the winning numbers.
Jackpots
The size of the Irish Lotto jackpot varies and depends on the number of tickets sold and whether or not there is a jackpot winner. If there is no jackpot winner, the jackpot may grow in the next draw. The Irish Lotto also has different prize categories for players who have correctly chosen a certain number of numbers, including prizes for matching five main numbers plus the bonus number.
Additional games: Besides the Irish Lotto itself, the National Lottery also offers additional games and options, such as Lotto Plus 1 and Lotto Plus 2. These extra games offer players extra chances to win prizes by selecting additional numbers at an extra cost.
Donations to Irish charities
In the past 30 years the Ireland Lotto has done a lot of good for Irish society. It has been estimated that it has raised about 3.6 billion euros for all kinds of important causes. The money is stored in the National Lottery Fund, while at the same time the Minister of Finance makes sure that the distribution of it takes place in a good way. Out of each penny about 32 cents goes to Irish charities and non-profit organizations. Just in 2010 alone 243,7 million was donated to charities. These charities are the following:
– Environmental and Educational Organizations
– Tourism and Arts councils
– Health Organizations for children
– The MS Society Ireland
– Irish Hockey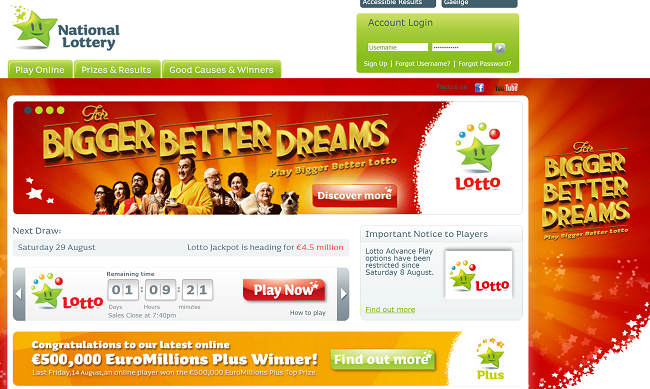 Changing matrixes Lotto
A few things have changed since 1988. At the beginning the Irish lottery used a single drum 6/36 number format. After a couple of years, in 1992, it began to use a 6/39 format. At the same time a bonus number was added as well. Two years later the guess range changed to 1-42, and it stayed that way for many years. In 2006 the current matrix came into place when a range of 1 to 45 was introduced. Since then the starting point of the Jackpot has been 2 million euros, whereas you can win a second price of 25.000 euros if luck is at your side.
Basic rules of the Ireland Lotto
The basic rules of the Ireland Lotto has always been the same. Everyone can participate, because it's really easy. The way the Ireland Lotto works is really easy. After you've bought a ticket of just a few euros you need to pick six numbers out of a 1-45 range. Nowadays it's also possible to play this lottery online. It gives a few advantages. For example, players who find it difficult to choose can let their numbers be selected by the computer. This is known as the 'Quick Pick' and is completely random. It's also possible to choose the numbers yourself if you want to. A third option is to select from numbers that are already part of your TheLotter.com account.
Great prizes
The fact that this lottery supports charity is for many players not the only reason to participate. It also offers great prizes and a big Jackpot, which can be won each Wednesday and Saturday at 19.00 GMT. In total there are seven prizes to be won, and you don't even have to pay a gambling tax on them. Wednesday and Saturday evening are very exciting. Are you going to be the next lucky winner? Be on time to purchase a ticket though. The ticket sales closes about three hours before the draw. Seven numbers are selected during the draw. These consist of six standard numbers and one bonus number. With the bonus number you can win three of the six secondary prizes of this lottery. To win one of the six secondary prizes, you need to guess between 3 and 5 numbers correctly, and have the correct bonus number as well. If this happens, you can call yourself the lucky winner of the Ireland Lotto!
Great winning odds
The winning odds of this lottery are amazing. It comes as no surprise that about two thirds of the Irish people participate in this lottery! They hope to win the biggest Jackpot ever. Until now the record is in the hands of a person who won an astonishing 16,717, 717 euros in 2010! The second place is for a group of factory workers who were lucky enough to win 18,963,441 euros in 2008. Another big Jackpot fell in 1996, when someone won 9,505,290 euros.
Lucky winners
Some winners of the Ireland Lottery wish to stay anonymous, but not a very lucky person called Ken Treacy. In June he was one of the factory workers that won the fantastic Jackpot of 18.9 million euros! Ken worked with his colleagues as a concrete mixer, but these days are over now. Instead Ken decided to spend his time at the place he loves most: the racing circuit. Before he became a concrete mixer he had even worked as a marshal at Rally Ireland racing events. After his win the new millionaire bought a car and became a professional race car driver. A great story that might inspire others to follow their dreams as well.