TheLotter is an online lottery ticket service similar to Giant Lottos that allows players to play and receive official lottery tickets from over 50 of the world's largest lotteries. It was established in 2002 and is operated by Lotto Direct Limited, which is registered in Malta. The Company is governed by the Malta Gaming Authority. TheLotter allows users to participate in several major international lotteries, such as the U.S. Powerball and Mega Millions, the European EuroMillions and many more. The only amount added to the ticket price is the small service fee.TheLotter is an online lottery messaging service.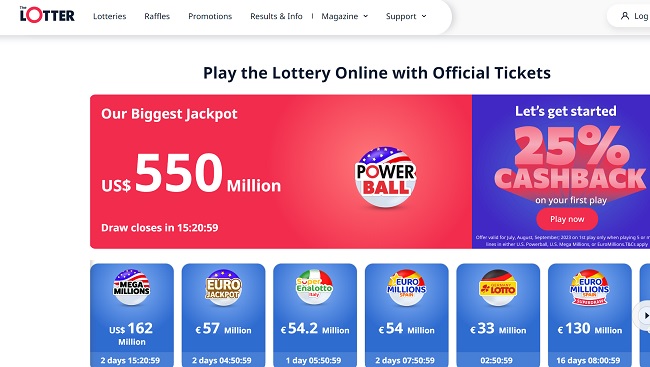 Start at thelotter.com
You create an account on TheLotter's website.
You choose the lottery you're interested in and buy a ticket.
Employees of TheLotter buy a physical ticket on your behalf in the country where the lottery is held.
A scanned copy of the ticket is uploaded to your account as proof of purchase.
When you purchase a ticket on our website, you will be able to see a scan in the My Account section, proving that the actual ticket was indeed purchased in your name. Copywriting displays number selection and related lottery information
If you win, TheLotter will assist you in claiming your prize, either by transferring the money to your account or by helping you with the process of claiming larger prizes in person.
what for lotteries could you play at thelotter?
US Powerball
Australia – Monday Lotto
Australia – Oz Lotto
Austria – Lotto
Austria EuroMillions
Canada – Lotto 6/49
Chile – Clasico Loto
EuroMillions Superdraw
France – Loto
Germany Lotto
Hungary – Hatoslotto
Hungary – Otoslotto
Ireland – Lotto
Italy – Lottomatica
Italy – Million Day
Italy – SuperEnalotto
Japan – Loto 6
Japan – Loto 7
Japan – Mini Loto
Mexico – Chispazo
Mexico – Melate
New Zealand – Lotto
Poland – Lotto
Poland – Mini Lotto
Spain – La Primitiva
Texas – Lotto Texas Extra
Ukraine – Megalot
Ukraine – Super Loto
Mega Millions
EuroJackpot
EuroMillions
Australia – Powerball Lotto
Australia – Supredraw
Australia – Saturday Lotto
Australia – Wednesday Lott
Brazil – Mega Sena
Brazil – Quina
Canada – Ontario 49
Colombia – Baloto
Italy – SuperStar
Kazakhstan – Loto 6/49
Kazakhstan 5/36
Lottery Raffles
Mexico – Melate Retro
New York – Cash4Life
New Zealand – Powerball
Peru – Kabala
Peru – Tinka
Philippines – Lotto 6/42
Philippines – Mega Lotto
Philippines – Super Lotto 6/
Philippines – Grand Lotto 6/
Philippines – Ultra Lotto 6/5
Portugal – Totoloto
Romania – Joker
Romania – Lotto 6/49
South Africa – Daily Lotto
South Africa – Lotto
South Africa – Powerball
Spain – BonoLoto
Spain – El Gordo
Spain – Loteria de Navidad
Spain – Loteria del Niño
Spain – Loteria Nacional
Texas – Cash Five
Texas – Lotto Texas
Texas – Lotto Texas Cash Fiv
Texas – Texas Two Step
Mega Millions – Just the Jac
Ukraine – Loto Maxima
Is theLotter safe?
Absolutely. The personal and payment details are encrypted under Geotrust 128 SSL-bit security and can only be accessed via username and password. All traffic between your web browser and our website is completely secure and you can make deposits or withdrawals through theLotter without any hesitation. You can see the Secure Sockets Layer lock icon in the address bar at the top of your browser page.
Is theLotter transparent?
Full information about how our services work can be found on our website. All elements of the ticket purchase process are explained and everything we do on your behalf is clearly displayed in your account, including scanned copies of transactions and tickets. We strive to be as transparent as possible about all aspects of our business operations.