Spanish people love to participate in the lottery. The country even has a world-famous lottery called 'Loteria del Nino'. It's a raffle in which players can win hundreds of millions of dollars. Actually the total amount of money in the prize pool is 700 million dollars! One in every three participants wins some prize money and the Jackpot is won by 1 in 100.000 players. Perhaps you're one of them next time?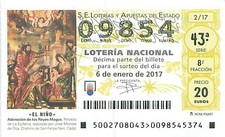 Lotria Nacional ticket El Nino
When does the next Loteria del Nino draw takes place?
It's not really surprising that thousands of people buy a ticket for the Loteria del Nino. The prize pool is incredibly high. The next lottery draw is only a month away and takes place at January 6th, 2023. The Spanish El Gordo is just two weaks before this draw. You should be buy your ticket on time though. Because of the attention it can be sold-out before you know it. There are 10.000 tickets available for this popular lottery. Every ticket is unique and has an own raffle code.
Loteria del Nino tickets
Each ticket undergoes a special process to give players more chance to participate in the raffle. First the tickets are printed 50 times and then each ticket batch is divided in 10 batches. Because of the huge amount of tickets you have a lot of opportunities to win a great prize. Obviously the prize money will be higher when you purchase a full ticket, but a part of the ticket is possible as well.
Easy to buy a ticket
You can easily purchase a ticket for Loteria del Nino online. All the unique raffle codes are put on the play page. You just have to choose a ticket and fill in the number of shares you want to buy. Then click on the confirm button and you're done. Now it's time to wait till the lottery draw starts. Hopefully it's your lucky day! Do you want to enjoy a nice discount? Then buy at least four shares at theLotter and you will be able to buy the tickets much cheaper.