The New Year's Eve draw takes place every year at the end of New Year's Day around the clock of 12 o'clock (in the evening). It is the largest draw of the Dutch state lottery in the year and a permanent feature in the New Year's Eve celebration of many Dutchmen. More money is spent on New Year's Eve tickets than on fireworks…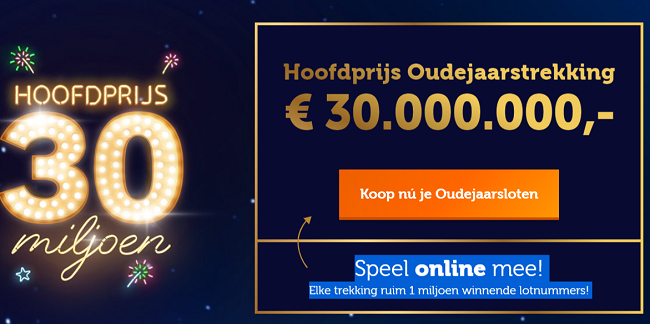 New years eve draw 31 december 2023
For the upcoming draw tonight, on December 31, 2023, the main prize is € 45million and the total prize package is estimated at € 67.5 million. This also includes 300 Mini's.
Draw result
The result will be announced tonight on December 31 at 00:00 hours on television, internet and the Teletext page. You can also find the results of the New Year's Eve draw on this site.
New Year's Eve
You can play along with a whole New Year's Eve ticket for 30 euros, or a half ticket for 15 euros. The prizes you win at half a lot will of course be halved. If you win a Mini on a half ticket, you will receive half of the value (€ 11,556). Furthermore, you can also buy a Street for New Year's Eve tickets for € 300. That means there are 10 items with a minimum of € 50 in prize money. In addition, you can also buy a Street Half New Year's Eve ticket for € 150, whereby you win at least € 25.