In most lotteries you need to predict some numbers correctly. You win a big prize when they (partially) match the numbered balls at the draw. Lotto 6aus49 from Germany is no exception. It popular lottery that is known for it's big cash prizes. People from all the world are welcome to participate. So as a Dutch or Belgian person you also have a chance of winning big money.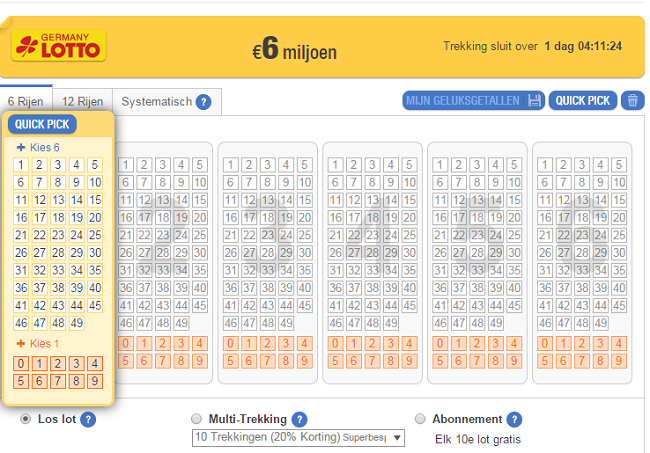 ---
How to play the Lotto?
You choose six numbers from 1 to 49 and an additional number, the "Superzahl," from 0 to 9. You get to choose these numbers yourself or you let the computer make a Quick random choice. Every Wednesday at 7 p.m. and on Saturday at 8 p.m., the German Lotto draws are held.
The name 'Lotto 6aus49' refers to the way of playing. You need choose six numbers from a series of 1 to 49. This has been the case since the establishment of Lotto 6aus49 in 1955. Over the years it has conquered the lottery market in Germany and the Netherlands. Nowadays it's part of the 'Deutsche Lotto und Toto Block', known as the DLTB. This organization is joined by sixteen independent lotteries. Lotto 6aus49 is one of the most successful.
Draw Lotto on Wednesday and Saturday (2023)
Just like many national lotteries, for example in Belgium, the draw of the Lotto 6aus49 takes place twice a week. It takes place on Wednesday and Saturday evening. So don't forget to put these important days in your agenda. In total there are six numbered balls drawn, a reserve ball and a 'super bal' with a number between 0 and 9. It's time to cheer when two or more numbers ánd the super ball match your predicted numbers on the lottery ticket. In that case you have a chance on winning very nice cash prizes. The more numbers match, the higher your prize money!
Where can you buy lottery tickets for the 6 aus 49?
Sales outlets for lottery tickets, including "6 aus 49" tickets, can generally be found throughout Germany. Here are some common places where you can buy lottery tickets:
Lottery stores: There are special stores and kiosks dedicated to selling lottery tickets. These are often found in city centers and shopping areas.
Supermarkets and convenience stores: Many supermarkets and convenience stores in Germany also sell lottery tickets, including "6 aus 49" tickets.
Tobacconists: Tobacconists (Tabakläden) usually also sell lottery tickets, so this is another place you can find them.
Online: You can also buy lottery tickets online through the official website of the German lottery or authorized online outlets.
Highest Jackpot Germany lotto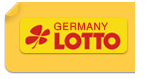 Lotto 6aus49 is known for it's very high cash prizes. It even had the highest Jackpot hit ever! A very lucky person won an incredible amount of 45,4 million euros. Winners also didn't complain about the other Jackpot's as well. For example, in 2014 there was a Jackpot hit of 27 million euros. They don't even have to play gambling tax. If you've won a big cash prize you need to contact someone from the lotto. He or she will help you with the financial process and questions about your new life. Smaller prizes will be added to account immediately.
Chance of winning
Of course the chance of winning a prize like 10 or 20 euros is much higher. Your chance of winning depends on several factors, such as the number of participants. It also makes a difference when you play with multiple tickets instead of just one. The chance to win a prize at this lottery is 1:57 at average. Of course you have a much higher chance on winning a small prize instead of the Jackpot.
International lottery
This German lottery is very interesting for people abroad because they can big prizes. Participants come from all over the planet. They're also attracted by the low prize for the lottery ticket. For 15 euros you can play once by ticking 6 numbers. Choose the numbers yourself from a range of 1 to 49 and a so-called 'Super Figure'. This is an additional number between 0 and 9. The Jackpot is yours when your chosen numbers and Super Figure are drawn. More information on duitseloterij.com
Hot or cold numbers Germany Lotto
Experienced lottery players mention 'cold' and 'warm numbers' quite often. They use it to increase their chance of winning. It means that some numbers have statistically been more drawn than others. Cold numbers have exactly the opposite. For example, a few years numbers like 4,5, 32, 38 and 49 were drawn many times. This was not the case for the numbers 15, 28 and 46. You could use this knowledge for your next prediction in the lottery.
Of course it could also be the other way around. Perhaps you like to choose the cold numbers just because they haven't been drawn for a while. Some people think that it increases the chance that they will appear. However, you need to realize the Lotto is game of chance. There's no logic actually.
Watch the results
The results of the German Lotto are broadcasted on the television channel Germany 1. You could also use German Teletext or the website of Lotto 6aus49. It's possible to watch the results from other parts of the world, including the Netherlands. However, for foreigners it's not possible to participate through the website of the German Lotto. However, you can try the website of 'The Lotter'. This organization makes it possible to play online in several lotteries from all over the world. You also receive an e-mail notification from this site if you've won a prize. Good luck!