Eurojackpot is a European coordinated lottery game that was launched on March 17, 2012. It is one of the largest lotteries in Europe and is similar to the EuroMillions lottery. Spain is one of the participating countries.
Gamerules Eurojackpot Spain
The draws for the Eurojackpot take place every Tuesday and Friday night just like in other countries.
Numbers: Players choose 5 main numbers from a range of 1 to 50 and 2 additional "Euro numbers" from a range of 1 to 10. A standard ticket costs about €2 in Spain.
Chances of winning
The odds of winning the Eurojackpot are relatively more favorable than in many other major lotteries. The odds of winning the top prize are 1 in 95,344,200.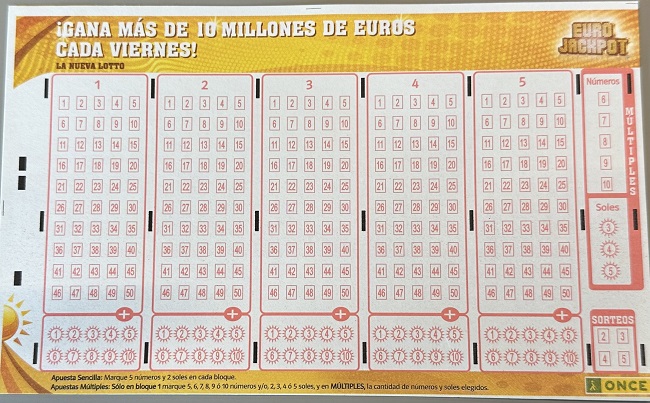 The Spanish Jackpot and Prizes
Minimum jackpot: €10 million
Maximum jackpot: €90 million
There are 12 prize levels in total, ranging from guessing two numbers to winning the jackpot.
Tax in Spain
Winning amounts exceeding €40,000 are subject to a 20% tax rate in Spain. This is an important point to consider when playing the lottery in Spain.
Where to play in Spain?
Online: There are several websites where you can purchase Eurojackpot tickets. This is especially useful for people who do not live in Spain but want to participate.
Physical stores: Lottery stores and kiosks all over Spain sell Eurojackpot tickets.
Participating countries.
In addition to Spain, 17 other European countries participate in the Eurojackpot, including Germany, Finland, and the Netherlands.
History in Spain
Spain joined Eurojackpot in June 2012, a few months after its launch. The lottery has since become popular as an addition to already existing national lotteries such as La Primitiva and El Gordo.
Social and economic impact
The Eurojackpot has had a positive economic impact by generating additional revenue for the state, which is used for social and cultural projects, among other things.
Conclusion
The Eurojackpot is a popular and growing lottery in Spain and other participating European countries like Sweden, France, The Netherlands and Germany. With lucrative prizes and relatively better odds than other major lotteries, it remains an attractive option for many.
Concerns have been raised about gambling addiction related to lottery games, including the Eurojackpot, and it is recommended to play responsibly.