Care-a-Lot is a new health lottery in the Netherlands. It actively contributes to sustainable health care, which makes it unique. The premise is simple: everyone, young and old, deserves the best care. How does Care-a-Lot makes this possible?
Buy a ticket >>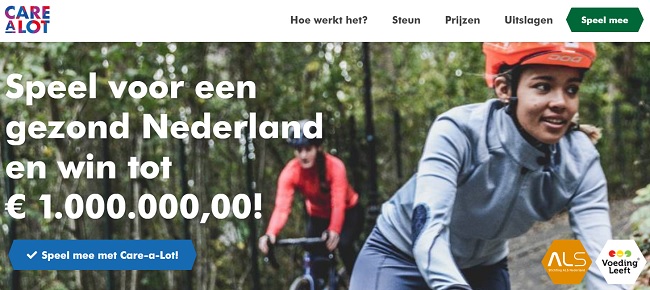 What is Care-a-Lot?
Care-a-Lot organizes a health lottery. Together with its participants it generates income for health care organizations. So it's not a standard lottery like we already now. Care-a-Lot is an innovative lottery platform that raises funds in a fun and transparent way for projects that make a difference for a healthier and more vital Netherlands. Every participant of this lottery makes a difference!
Group of donors is shrinking
Health care is changing. Just take a look at the developments in the research into life-saving disease prevention. Together with treatment it's becoming increasingly donation-dependent. The problem is that the group of donors is shrinking. Care-a-Lot wants to change this by organizing a health lottery.
Not one, but two winners
As a lottery participant, you have a great chance of winning special prizes. You're already winning, since you already help organizations by doing a donation. This is the solution Care-a-Lot wants to provide. During every draw, you immediately donate money to the organization of your choice. And with a winning chance of 1 in 5, you have a high chance of winning great prizes.
Fairshare
Care-a-Lot is organized under the license number 10339 of Fairshare Netherlands. Fairshare Netherlands was founded in 2015 by a team of lottery specialists. It's an independent lottery organization dedicated to raising funds for organizations in the Netherlands. It does so by organizing innovative and accessible lotteries. Participating in one of these lotteries is very exciting. Fairshare was founded in 2015 by a team of experienced lottery specialists.