Lotto is a lottery with something extra. Literally, because it now sells gift cards. It's a perfect way to surprise your friend or family member. Make him or her happy the Lottery gift card during a birthday, for example. It's also the perfect gift for other events. It's up to you how much money you want to put on the gift card.
No expiration date lotto giftcard
It's not necessary to spend the money on the gift card all at once. You or the person you're giving it to can use it for several draws. Play whenever you want and pay with the card. It will always be valid, because there's no expiration date.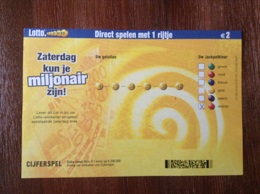 Redeem the Lotto gift card online
It's possible to use the Lotto gift card online. This is only possible when you have an online Lotto account. Over here you can create on. After doing this, you can redeem it in just a few steps. First you need to visit the website of the Lotto, Eurojackpot or Lucky Day. Login to your account over here. You see the button 'participate immediately'. Click on it and decide with how many lottery tickets you want to play. You have to pick a couple of numbers for your ticket and the Jackpot colour. Pay with the gift card as the last step.
How to spend the gift card?
It's a good idea to read the terms and conditions before you buy a gift card. It's required to spend at least 10 euros for the card, but 50 or 100 euros is possible as well. Perhaps you're not the one who bought the ticket. Instead you got it as a gift from a friend, really nice! Using the card is just as easy as buying it. You need to visit a store where you can spend the gift card. Fill in your lottery tickets with six numbers. Then pay with the gift card, and you're done!
Keep your ticket safe
The retailer always gives you a certificate of participation. Always keep it in a safe place, because you it gives you the right to claim your prize. Did a Lotto draw just take place? Then check as soon as possible if you've won something. We wish you a lot of luck and fun!