Recently, the Gaming Authority received a lot of questions about the Lotisico Risk Lottery. The reason for this is that this lottery no longer draws and does not pay out prizes. Stakeholders are unable to contact the company behind the lottery. Why is this happening?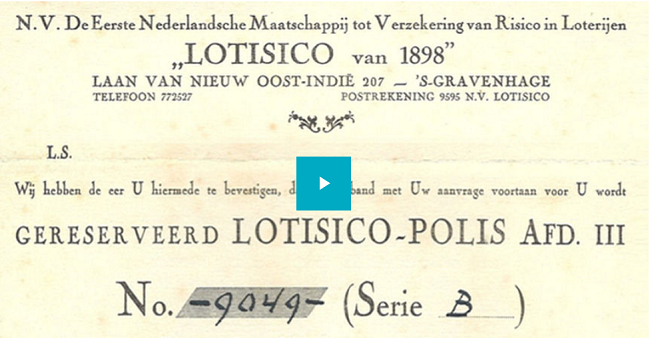 What is Lotisico Risk?
The 'N.V. De Eerste Nederlandsche Maatschappij tot Verzekering van Risisico in Loterijen Lotisico' was founded in 1902. In that year, the company launched an insurance policy against the loss of the State Lottery. People had to pay 150 guilders for this policy. Lotisico's offered three annual draws with a chance of cash prizes as a counterpart. Initially, the lottery was linked to the results of the State Lottery. When the numbering method of the State Lottery changed, Lotisico had to hold its own draws at the beginning of the 1930s. The lottery policy remained valid until ten thousand guilders, which is 4537 euros nowadays, in prize money had been won on that policy. Many current policyholders inherited the lottery policy. No new policies have been issued since the 1950s. It is estimated that there are still some sixty thousand policies in circulation.
Why are there problems now?
There are some problems around Lot Risk. Of the three drawings that should have taken place in 2017, only two were held. Also problematic is the fact that prize winners will not receive their prizes that were won in 2017. Policyholders who try to sound the alarm at Lotisico do not even get a response. The phone is not answered, there is no reply to e-mails and the website has also been taken off the air.
What can the gaming authority do about this?
The Gaming Act (Wok) is the legal framework in which the Gaming Authority operates. Article 44 states that the Wok does not apply to lotteries from before 1905. Formally, therefore, there is nothing the Gaming Authority can do, because Lotisico was established in 1902. The Gaming Authority understands that this is unsatisfactory for policyholders, but it cannot act without a legal basis.
What can policyholders do?
Earlier this year, the program 'RADAR' paid attention to Lot Risk. A specialist lawyer said that those affected can seek Lotisico's bankruptcy. For this to happen, it is first necessary for them to give the company notice of default. This can be done by means of a standard letter on the Radar website.