A salary of 10.000 euros every month without having to do anything for it: it's sounds like a dream. We have good news for you: dreams can come true. Especially when you participate in the Dutch State Lottery! This lottery regularly organizes special draws in which the owner of the winning ticket receives 10.000 euros every month for the next three decades. This is a total sum of 3.6 million euros. What do you have to do to have a chance on this amazing price?
Play now and win 10.000 euros every month for the next three decades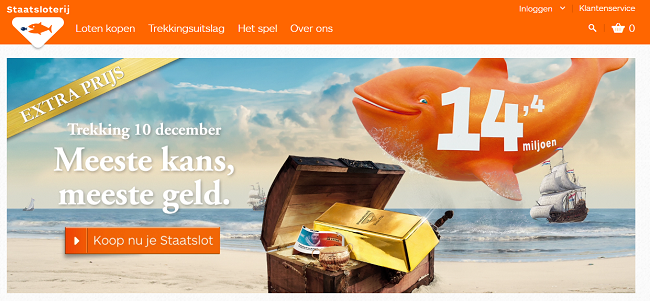 The great prizes of the Dutch State Lottery
There's usually a lot of attention for the draws of the State Lottery. Not surprisingly, if you take a look at the prizes. Not just 10.000 euros for 30 years, but also 10×10.000 euros or 5×100.000 euros! And there's even more good news: the Dutch State Lottery promises a guaranteed win.
How to participate in the Dutch State Lottery?
It's really easy to participate in the Dutch State Lottery draws. Just buy a ticket in a store or online. A complete ticket costs 15 euros, which might be a bit much for some people. However, you can also buy a part of the ticket, like 1/5th. In that case a lottery ticket costs only 3 euros. If you're the lucky winner, you still get 2000 euros every month. Not bad for a lottery that can make all your dreams come true!
A big or small street
When you buy one or more Dutch State Lottery tickets, you have several possibilities. When you buy 10 tickets you have a so-called 'street'. You can win at least 50 euros for a street, but hopefully it's more. If you have 1/5th of 10 tickets, which is obviously cheaper, it's a small street. The same principle applies to the 'boulevard', which means that you have 100 complete tickets or 1/5th of it. The minimum amount that you can win for a small street is 10 euros.
Try the boulevard
Do you prefer bigger prizes? Then buy the 'boulevard, namely a maximum of 630 euros. This is 126 euros for a small boulevard. Did you win the main prize with a full ticket? Congratulations! In that case it's possible to withdraw your money all at once, which means that 2.875.000 is added to your bank account.
Buy your tickets on time
It's a good idea to buy some tickets for the State Lottery at the beginning of a new year. If you do this before the 25th of June, it's possible to win 100 extra State Lottery tickets. This means a bigger chance to win the main prize! So there's actually no reason why you wouldn't do this!