The El Gordo lottery can be seen as a Spanish Christmas tradition. It was already established in 1812 and the excitement has grown over the years. The lottery has not only made some Spanish participants rich, but people from abroad as well. Surprisingly enough, a research has shown that foreigners spend more money on El Gordo Lottery tickets than the Spanish people themselves!
Buy now a ticket >>>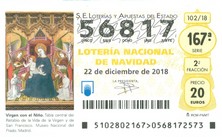 The Christmas lottery
The official name of El Gordo is the 'Sorteo Extraordinario de la Lotería de Navidad'. It is also known as the 'Christmas lottery' because the draw always take place at December 22nd. The lottery attracts a lot of media attention because of the big prizes. The draw is broadcasted live on television. You can watch it at TVE, where besides the draw you can see some children who announce the numbers while singing. Afterwards the lucky winners of El Gordo are interviewed live on television. Perhaps you are going to be one of them this year!
Money spend on tickets from abroad
Thousands of euros are spend on tickets of this very popular Spanish lottery. Most of the money comes from out of Spain. This conclusion after a research from the website Ventura24 might be a surprise for you. It appears that foreigners spend about 67 euro on a El Gordo ticket, much more than the 46 euros the Spanish participants are willing to pay. Especially German and French people are very enthusiastic about this lottery, because they bought 13 and 10 percent more El Gordo lottery tickets online. People from Switzerland, Great Britain and Mexico spend a lot of money on their tickets as well. In total about 35 percent of the lottery sells abroad comes from these countries.
International lottery participants
Not every participants spends as much money on the El Gordo ticket. Of course it also depends on their financial situation. The Mexicans really want to win the lottery, because they pay about 117 euros for a ticket. The second place is for the Swss with 116,80 euros. Although the German and French lottery players love El Gordo, they are only willing to pay 61 euros. After these countries follow the Netherlands and Belgium, who spend 59,93 euros and 54,30 euros respectively.